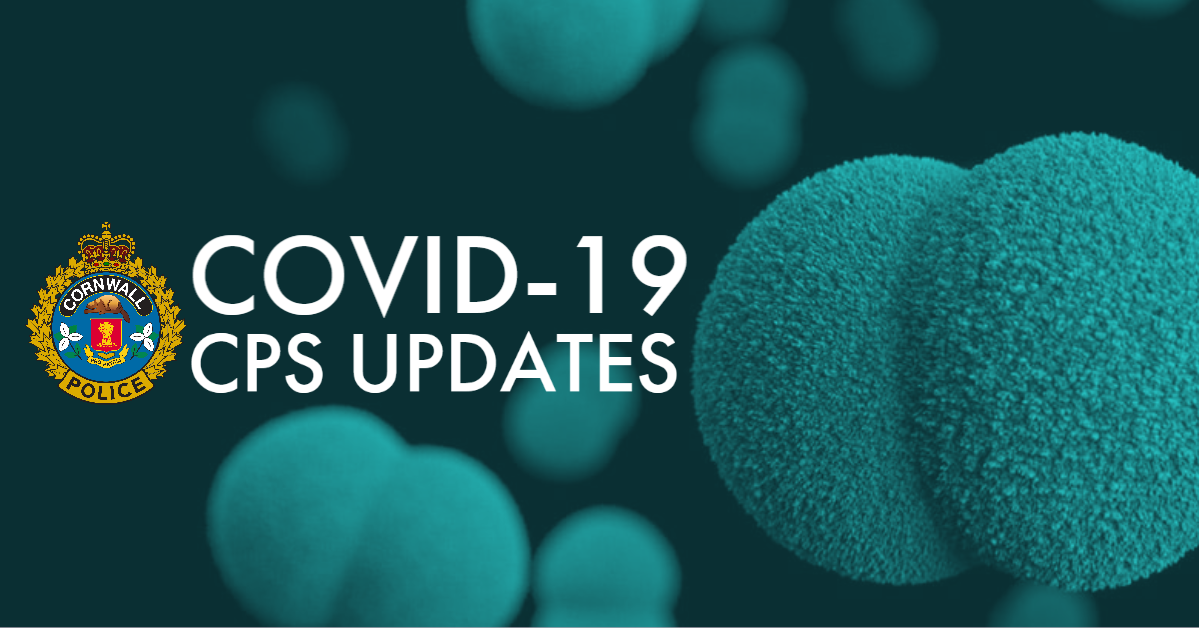 On December 31, 2019, a cluster of cases of pneumonia was reported in Wuhan, China, and the cause has been confirmed as a new coronavirus that has not previously been identified in humans. This virus is now known as COVID-19 (previously called 2019 Novel Coronavirus or 2019-nCoV). 
The safety of our community is a top priority for the Cornwall Police Service (CPS), as well as the safety of our employees. As such, the CPS has activated our internal Pandemic Plan and created a COVID-19 Command Group to administer our response accordingly. The situation is being closely monitored, with members of the Command Group communicating regularly with health officials, as well as all levels of government.
Provincial Shutdown/Second Declaration of an Emergency
Effective January 14, 2021 at 12:01 a.m., the following new order came into effect under the Emergency Management and Civil Protection Act:
 Stay-at-Home Order
 The stay-at-home order requires that every individual shall remain in their place of residence at all times unless leaving is necessary for one or more of the following purposes:
 ·         Work, school and child care (Working or volunteering where the nature of the work or volunteering requires the individual to leave their residence; Attending school or a post-secondary institution; Attending, obtaining or providing child care; Receiving or providing training or educational services).
 ·         Obtaining goods and services (Obtaining food, beverages and personal care items, goods or services that are necessary for the health or safety of an individual, including health care services and medications; Obtaining goods or services, or performing activities, that are necessary for the safe operation, maintenance and sanitation of households, businesses, means of transportation or other places; Purchasing or picking up goods through an alternative method of sale, such as curbside pickup, from a business or place that is permitted to provide curbside pickup under the Stage 1 Order; Attending an appointment at a business or place that is permitted to be open by appointment under the Stage 1 Order; Obtaining services from a financial institution or cheque cashing service; Obtaining government services, social services and supports, mental health support services or addictions support services.)
 ·         Assisting others (Delivering goods or providing care or other support or assistance to an individual who requires support or assistance, or receiving such support or assistance, including providing care for an individual in a congregate care setting, and accompanying an individual who requires assistance leaving their residence for any purpose permitted under this Order; taking a child to the child's parent or guardian or to the parent or guardian's residence; taking a member of the individual's household to any place the member of the household is permitted to go under this Order.
 ·         Health, safety and legal purposes (Doing anything that is necessary to respond to or avoid an imminent risk to the health or safety of an individual, including, protecting oneself or others from domestic violence, leaving or assisting someone in leaving unsafe living conditions, and seeking emergency assistance; Exercising, including, walking or moving around outdoors using an assistive mobility device, or using an outdoor recreational amenity that is permitted to be open under the Stage 1 Order. Attending a place as required by law or in relation to the administration of justice).
 ·         Multiple residences and moving (Travelling to another residence of the individual if the individual intends to be at the residence for less than 24 hours and is attending for one of the purposes set out in this order; or the individual intends to reside at the residence for at least 14 days; travelling between the homes of parents, guardians or caregivers, if the individual is under their care; Making arrangements to purchase or sell a residence or to begin or end a residential lease; Moving residences).
·         Travel (Travelling to an airport, bus station or train station for the purpose of travelling to a destination that is outside of the Province).
·         Gatherings (Attending a gathering for the purpose of a wedding, a funeral or a religious service, rite or ceremony that is permitted under the Stage 1 Order or making necessary arrangements for the purpose of such a gathering or if the individual lives alone, gathering with the members of a single household).
·         Animals (Obtaining goods or services that are necessary for the health or safety of an animal, including obtaining veterinary services, food or supplies, walking or otherwise exercising an animal).
For further details on the current restrictions in place, please click here.
Updates to CPS Services
LOBBY AT 340 PITT STREET:
Effective December 26, 2020, the CPS lobby at 340 Pitt Street will be closed to the public for reasons other than emergencies.  Please see the following updates for more information on how to access services during this time. 
TO MAKE A REPORT:
If you need to file a report, please consider the following alternatives rather than attending our police station: 
Call 9-1-1 for all emergencies.
Call 613-932-2110 for non-urgent matters.
CALL SCREENING:
The CPS remains committed to public safety during COVID-19. We will continue to provide essential services to the community. Officers will be dispatched to emergency and non-emergency calls on a priority basis.
Our dispatchers will be asking a series of screening questions, as recommended by the health authorities, prior to dispatching an officer to a call. All police personnel have been issued Personal Protective Equipment (PPE) to be put on when a person they are interacting with displays signs of a fever, cough, or difficulty breathing.
Additionally, in order to limit contact with the public and to mitigate any potential exposure to COVID-19, the CPS may process some calls for service over the telephone instead of having an officer attend.  These decisions will be made on a case by case basis.
POLICE RECORD CHECKS:
Police Record Checks checks will only be processed through the online system.  Please do not attend our police station.
During this time, the fees and wait-times associated with using the online system are now the same as our walk-in fee structure to eliminate residents having to attend our station. Should you have any questions with respect to the online process please click here to submit your inquiry to the Records Department.
If an applicant needs to be fingerprinted in order to complete a Vulnerable Sector check, the completion of their check will be delayed. 

OTHER RECORDS SERVICES:
If you need to register an alarm, please click here to download an Alarm Registration Form. Fill out the form and mail the registration, along with a cheque made out to the City of Cornwall, and address it to:
Cornwall Police Service
340 Pitt Street
P.O. Box 875
Cornwall, ON K6H 5T7
If you need to obtain a copy of a Motor Vehicle Collision Report, please mail a written request, including the occurrence number, a photocopy of your ID, a cheque made out to the City of Cornwall in the amount of $40.00, and address it to:
Cornwall Police Service
Attn: Records Bureau
P.O. Box 875, 340 Pitt Street
Cornwall, Ontario K6H 5T7
For all other Records inquiries, please email the Records Department or call 613-933-5000 ext; 2401 during regular business hours.
COLLISION REPORTING CENTRE 
The Collision Reporting Centre  (CRC) is open Monday to Friday from 10:00 am to 6:00 pm; however, the public is requested to contact CRC directly at 613-930-7458 before attending the police station.
SIGN-IN CONDITIONS
Individuals required to sign-in at the front desk, as per their release conditions, are still mandated to attend, but will be asked to display their identification to staff through the glass partition.
EAST END STATION
Our East End Station, located at 330 Montreal Road is currently closed until further notice. 
Enforcement of the Emergency Orders:
On July 24, 2020, the Reopening Ontario (A Flexible Response to COVID-19) Act (ROA) came into force to ensure measures remained in place after the provincial declared emergency came to an end. Under the ROA, orders can be extended for up to 30 days at a time. The CPS will be enforcing these Orders in order to reduce the spread of the COVID-19 virus and better protect our community.
How do I report an individual/business in violation of the above-mentioned Orders?
To report any violations of the above-mentioned Orders that have occurred in the City of Cornwall, please call 613-932-2110. 
To view a list of emergency orders in place by the Government of Ontario, click here.
For information on emergency orders in place by the Medical Officer of Health of the Eastern Ontario Health Unit, click here. 
For information on the federal Quarantine Act, click here. 
Resources:
City of Cornwall - Helpline: 613-932-6282 ext. 3129